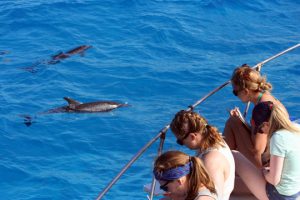 We saw dolphins!! But first, we our brains were a bit foggy during breakfast and then we loosened up during a lecture on photo-ID: identifying study subjects by species, sex, age and individual. It was interesting to see the different ways to estimate a wild dolphins' age. Spotted dolphins are handy with their age spots! It's helpful to look for multiple identifying characteristics, so that you aren't relying on just a noticeable fluke or dorsal fin. We learned that when we are in the water we need to take as many photographs as possible, since so many of them will end up unusable. It was insightful to discuss the difference between numbering individuals versus naming them – scientific objectivity versus exciting the public. Our second lecture was on mixed species groups: seeing a video of a bottlenose/spotted group was cool! There are challenges to telling the two species apart – even when you think you know how to tell them apart. It was really interesting to think the function of these interactions might be practice for their intraspecies mating.   
Later, we were on the boat for about five hours. Ummmm, let's just say there were some waves! We saw lots of flying fish, a trigger fish and a nurse shark – all while searching for dolphins. Our first sighting of dolphins was 16:38 – and our amazing Professor was the first to spot them. At first we thought it was a lone bottlenose dolphin. Soon, we realized it was a pair of adult spotteds. This pair was traveling, so we could not attempt an underwater observation. But, they eventually led us to four other dolphins. We thought we might have a group of six dolphins to observe for a while, but the original two quickly departed. This next group included 3 sub-adults/adults and one calf. The calf was super zippy, but may have had a momentary tantrum, going belly up and fluke slapping. One of us lost our sunglasses to the sea, but not before watching the calf investigate the object! Our first attempt to swim with this group wasn't a huge success, but the next one was. Under water we were able to better see their interactions, including circle swimming around each other. Back on the boat, we realized we had lost sight of this group and were suddenly watching another group. There was a different calf and a juvenile, but it was hard to estimate the ages of the other dolphins. We got in the water with this new group – there was much more physical contact between these dolphins. Belly-to-belly, pectoral fin rubbing and more. We saw a bubble train and heard a whistle! There were lots of other vocalizations too. They bow ride more than the earlier dolphins – they are so bold! 
It was interesting to hear Captain Al discussing what he needs to be aware: where the dolphins are, how to safely maneuver the boat, where other boats are, where the swimmers are, etc. And we can't wait to review our photographs later in the week. 
Our evening included a cookout at the marina. It was good! But we were all tired, so it was off to bed… 
Until next time,
Bimini Babes (and Hunks) UNBSJ 2015