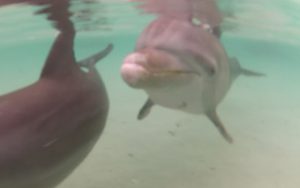 The rain was prevalent again in the evening and early morning. But the day cleared a bit in the morning and offered good underwater visibility for a session in the morning. So, my team – all early risers – and I were on the taxi boat by 6:00 AM and I was in the water by 6:10 AM. I went in from the beach rather than a platform to see if that might divert Ronnie and the attention of some of the younger dolphins. And, for about ten minutes it did! Then, Ronnie found my fins and all bets were off. Polly and Calli seemed to delight in checking out the camera (MVA) and me. In this shot, Ronnie is taking a break from my fins to take in his reflection in the MVA front port (or so it seems).
I try very hard to have the dolphins ignore me when I collect data, as our focus is dolphin-to-dolphin communication. So, we do not touch, nor make eye contact nor play with the dolphins. But, now and then, they decide that I seem to be a good toy or item of interest, at the very least. Such is the case this week with Ronnie. But, each day, I can spend a bit more time in the session ignoring him and the others and focusing on their intra-specific interactions.
Bill and Lance did a dolphin dive this morning with Hector and Han – RIMS is one of the few places where the dolphins follow the boat out past the barrier reef for an open water dive. Han was enamored of Lance's camera and watched him at depth for several seconds before surfacing for a breath. 
All in all – a very god day!
Tomorrow begins early again.
Cheers
Kathleen