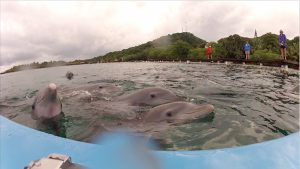 I woke several times last night … to the sound of pouring rain and wind! But, when I looked at the visibility at 6 AM, it looked sort of ok. So, we trekked over the Bailey's for me to collect some data. The gang was all out and I slipped into the water to really good visibility, albeit a tad dark due to the thick cumulous clouds overhead.
The dolphins – the younger ones – decided I was indeed their play toy. They poked at the hydrophone boxes – sort of like a little kid poking dad when he's sleeping. That is, poke, run away and giggle! If no reaction, repeat. Not a game I wanted to play but they delighted in it! Still, I try to be ignored so I had to hop out onto the platform for a "dolphin time out".
After 3 min, I hopped back in. Calli and Polly were not deterred! And soon thereafter, French, Ronnie and Ritchie all decided that my fins were just the best thing ever! So, it was best that I exited the water. I collected about a total of 10 min of video this morning.
I tried again at about 9:30 AM but the underwater visibility meant the dolphins actually had to be close for me to see them. You can see the dolphins were trying to coax me to stay in the water for more play!
So, today was spent reviewing the video from yesterday and confirming the rakes and other scars per dolphin ID. Bill and Lance will do a dolphin dive tomorrow morning – i.e., some of the dolphins here at AKR go out to do dives off the reef. Their dive will be after a data collection session in the morning (I hope!).
Cheers
Kathleen