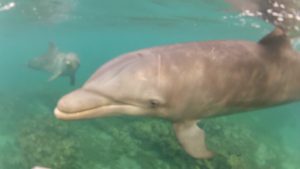 What a way to start the field season at RIMS! Our first session began at 6:40 AM – I have four participants who are early risers like me! The underwater visibility was great and the dolphins were inquisitive and vocal and playful. It was nice to see Ritchie and Bill again and the youngsters from 2013 have grown! Calli is more raked that last year but also more rambuCallinctious! She's the closer of the two dolphins in the photo.
The second session was of a "tandem create" training session with Hector and Han. They have learned to do behaviors together – but not just any behaviors but something new to the session. They cracked me up during one request – i.e., they both sort of swam down below me and looked like the forgot what they wanted to do. Then they swam back to each other like "Oh that's right … together!" 
Jeanne helped me during the next training session – i.e., we walked around the dock to look at all the younger animals closer up … to confirm their rake marks and other tiny scars. This will help us confirm who is who on the video data. The 3rd session was just after noon and it was not as good as the morning – the current had increased and the visibility dropped. There were also loads of moon jellyfish! Still, it was a good day overall!
I'll be in the morning early again tomorrow – weather permitting.
Cheers
Kathleen