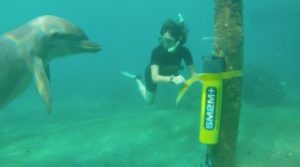 We were greeted to a deluge of rain on waking! The wind joined the rain and the sound was like a freight train rumbling by! Luckily, the sun came out a bit later … but the wind remained all day. Rain, plus rolling breakers just outside the reef meant the underwater visibility was not good (technical term: yucky!). And, the sun, rain and wind were joined by a strong current across the reef. Thus, by the end of the day, the underwater visibility was improving. 
Some of our team decided to try the morning dives, which actually provided better than expected visibility and numerous fish! The dives were on the south side of the island. While they dove, Bill and I prepped gear. The MVA is ready for use tomorrow morning. The SM2M was prepped and turned on. Bill helped me to deploy the SM2M during which time I was able to confirm first-hand that the current was STRONG! Still, 28 lbs of weight should keep the SM2M recorder in place, along with the strap keeping it snug to the piling. The dolphins paid zero attention to the SM2M or me while I strapped it into place. Here's a picture of our deployment of the SM2M last year – everything is the same, except that this photo was from last year! (Bill and I had our hands full today, so no photos!)
I'll be hopping into the water at about 6:40 tomorrow morning for a data collection session. In conversation with David and Denry, we know that 22 dolphins are calling Bailey's Key home. I look forward to saying a brief hi tomorrow morning and then trying to be as non-invasive as a jellyfish (so to speak) when I observe and record their interactions. 
Cheers,  Kathleen