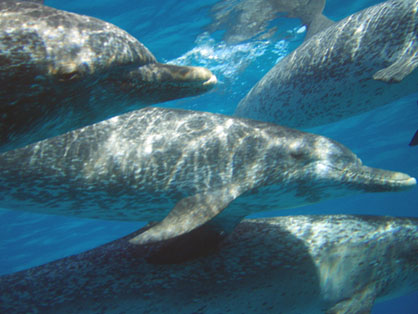 Saturday began with a day off for the interns. So as the trio slept in and enjoyed a bit of a lazy morning, Kel was prepping for a trip with Bimini Adventures. To everyone's surprise, we received an email around noon stating Bimini Undersea was also going out on a trip today and kindly offered spots to the interns! We were delighted to hear this and scraped our day off for another work day and a boat trip!
 
Kel departed around 13:00 and fairly soon after we found 3 eagle rays swimming quickly. As the film crew onboard was interested in more than just dolphins, they spent some time filming a different spotted creature of Bimini. Almost immediately after the eagle rays, we saw a group of crater feeding 7 bottlenose. The crew spent about 30 minutes filming this group, while Kel stayed above water collecting dorsal fin photographs.  Almost an hour later they came upon over 20 spotted dolphins. In this group were a few familiar, but not yet cataloged individuals, including an adult spotted with a "super funky" cut up dorsal fin, as well as a dolphin that looks like a slightly different, yet younger version of Romeo (#10). This group stuck around for over an hour and the crew had numerous encounters with the many dolphins. Eventually we called it a day and headed home with a very exciting and successful trip to wrap up the week.
 
Meanwhile, the three intern ninja turtles were graciously picked up around 3:45 by Bimini Undersea. Almost immediately after we turned out of the channel to head up the coastline we saw 2 bottlenose dolphins crater feeding. Alexis recognized one of them, missing half of its right pectoral fin, from a trip last week. We watched them from the bow for some time, but then continued on in pursuit of more dolphins. Moments later, we saw 3 bottlenose dolphins, again crater feeding, including the same dolphin with the damaged pec fin. Like the previous sighting, we stuck with them for a bit, but then continued on for more dolphins. About 30 minutes later, we found what we thought were only 2 spotted dolphins (which looked like a mom and calf pair), but once we jumped in the water we found that at least 10 more dolphins had joined in for the fun! We spent about 30 minutes with this group which included Swoosh (#36) and Romeo (#10), both in this picture. Even Stefran (#82) who DCP hasn't seen in almost a full year was there!!! We also think we saw Vincent (#11), which would really be cool since we have not been able to get photos or video of this adult male in several years. It was a delight to be able to swim with all these dolphins! Everyone was so happy and full of excitement when we got back on the boat. At that point we had lost sight of the dolphins and were heading back towards home when about 3 spotteds did a very, very quick swim-by and then disappeared one more time. It was a wonderful trip and so exciting to see so many dolphins we knew! Thank you Bimini Undersea!
 
Hopefully tomorrow is another day full of dolphins!!! Fingers crossed!
 
Keep on keeping on,
Lauren, Amy, Alexis, & Kel
PS: Click here to check out Kel's CrowdRise fundraising page to help fund boat trips later this week. She's nearly at her goal!