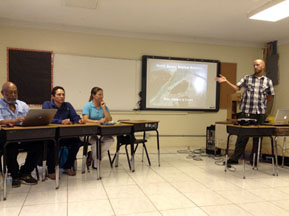 Monday began with odds and ends as Kel prepped for a boat trip with Bimini Adventures and Parallax Film Productions. The boat departed at 1245 with storm clouds looming. We were hopeful that the storms would miss us and the dolphins would be plentiful, but neither was the case! Still, it was an exciting day of filming for the crew; as we searched for dolphins, they spotted a large loggerhead turtle. Quickly the cameraman was in the water, not expecting much. Boy was he surprised! This turtle came so close, filming was actually a challenge. The observation was so long that Captain Al actually had to call the crew back to the boat – the storm was closing in. It was quite possibly the wetness ride back toward Bimini we've ever experienced, but going slow and steady we knew we were safe with Al. After the rain cleared, we made another loop in search of dolphins, but only saw a lone and elusive bottlenose.  
Meanwhile, Alexis & Amy worked on data processing (including still photos from our boat trips last week and videologs from 2012) while Lauren (our newest intern in Bimini) was in transit, on her way to join us. Amy and Alexis anxiously awaited her arrival and greeted her as she got off the water taxi! Lauren arrived safe and sound, but with a few hiccups, as she almost missed her flight and had to throw out a few items in order to get her bags through security, including all of her sunscreen!
Lauren settled into Bimini life quickly and was excited to hear about a surprise boat trip planned with Bimini Undersea. Unfortunately, a pretty bad squall came through which canceled that trip (the same squall Kel was stuck in), so instead the interns introduced Lauren to the data processing side of field research in Bimini. 
Since the interns' boat trip was canceled, we were able to attend a town meeting with some Bahamian environmental figures including a representative from BREEF, BNT, Waterkeeper Alliance, and The Nature Conservancy. This meeting was to discuss the proposal of turning the Bimini mangroves into a marine reserve (aka, Marine Protected Area or MPA). We enjoyed hearing about the conservation and development issues from a scientific standpoint, as well as from tourists/return tourists who deeply care about Bimini and the health and future of the local ecosystem.
Until next time,
Lauren, Amy, Alexis, & Kel