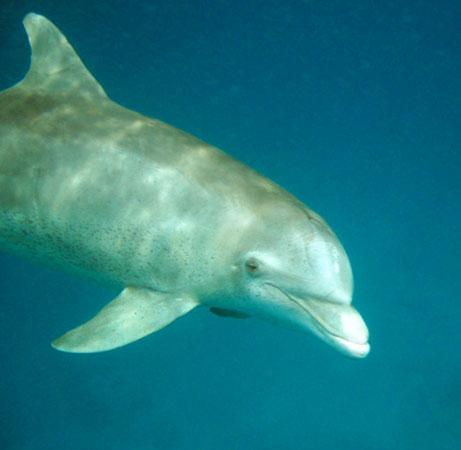 On Sunday, Alexis and Amy eagerly boarded DCP's boat for our first boat trip of the season! Only 20 minutes into the trip, we encountered a group of 15-20 bottlenose dolphins, including at least 3 calves. We hopped into the water and found that they were crater feeding on the sandy bottom, with a nurse shark lurking nearby (hoping for a handout, no doubt!). Although busy searching for food, the dolphins were inquisitive when surfacing, swimming within a foot of us and checking out our equipment with their eyes and sonar. We saw several distinctive individuals, including one with a stubby pectoral fin. We swam with them for about 20 minutes before returning to the boat to let them focus on their hunt for food.
At 18:20 we suddenly had 10 spotted dolphins riding our bow, including three calves. It was Amy's first time seeing spotted dolphins, and she happily snapped photos from the bow, surprised by how small they were in comparison to the bottlenose dolphins we'd seen. Unfortunately the spotted dolphins didn't stick around for long, so we weren't able to get into the water to confirm identities.
After the boat trip, we headed back to the computers to check out the underwater photos from our swim with the bottlenose dolphins; Amy was relieved to find that she had taken usable shots as it had been her first time using an underwater camera. Here, you can see how many spots this bottlenose dolphin has! We're off to a good start and can't wait to see what tomorrow's boat trip brings. Hopefully our next group of spotted dolphins will allow us to join them for a swim!
Cowabunga Dudes,
Amy, & Alexis