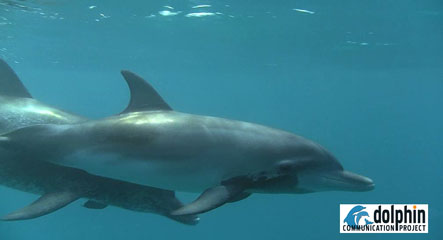 Thursday our day began in its typical fashion, with breakfast and a class session. We did our field report and then suddenly it was time to make our lunches. We had to make our lunch early because we had a picnic lunch on the boat! We departed at 11:00 a.m. and headed south to Triangle Rocks. On the way, we even got to see a group of dolphins, most likely bottlenose, but not confirmed. Here got a briefing – which scared some of us! – before putting "chum" in the water for Caribbean reef sharks, and a few sharpnose sharks! Some of us were so scared at first, and for others, we found ourselves more calm once we were actually in the water in the sharks. The sharks distracted some of us from our buddy system, while others found ourselves glued to our buddies. Some of us saw a very large spotted eagle ray and our first remoras, some free swimming and some attached to the sharks. We all stayed together, behind the anchor line, with our captain assuring us that we'd be "fine" as long as we stayed behind this imaginary line. We're not sure the sharks got that message! After the sharks took a bite of their snacks, they would swim by and check us out. There were at least 8-10 reef sharks, plus the sharpnose sharks. At the end of our swim, with all of us back on the boat, Captain Al gave us all a good look as he tied bait to a line and manipulated where the sharks would pursue it.
Back on the boat, we all enjoyed our lunches on the way to Honeymoon Harbour, a section of Gun Cay. We hopped into the water fin-free, but quickly realized that we were all more comfortable with our fins. So, with those on our feet, we had lots of time to feed the southern stingrays. They are so "friendly," especially the very large one. As we fed them squid, some rays were efficient at getting them, while others weren't so great at it! At one point, a fish stole squid right out of our hands! We were impressed at how smooth the rays' skin is – and they came close enough we had lots of chances to touch them. For us, this was a great experiential learning opportunity. We did not even know we were going to be able to have this experience and for some of us, it was outside our comfort zone and some of us came away saying it was a favorite element of the course!
On the way home, we saw dolphins – again! This time, it was definitely bottlenose dolphins. There were at least five to eight, but they were scattered so it was hard to get a good count and it is very likely there were more. We got some photos and could already tell that some of the dolphins were the same individuals that we had seen the day before! Our captains let us watch from the boat for a while, before we really headed for home. Or not, because then we saw a huge loggerhead turtle! Captain Al estimated this turtle weighed 300 lbs! After this, we headed home. Really.
Back in class we discussed interspecific interactions, specifically between bottlenose and Atlantic spotted dolphins in The Bahamas. Then, to wrap up our exciting day, we got to be the ones who added ID#103 to DCP's spotted dolphin photo-ID catalog (pictured here)! From watching video, we confirmed that this calf is a female; it will take more observations to determine who its mother is.
What will our last boat trip, tomorrow, bring?
"Cetacean Nation" (SHU 2014)