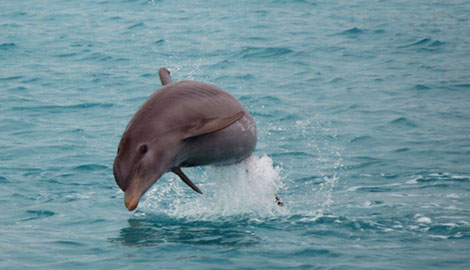 We've become accustomed to spending hours in search of dolphins, but on Tuesday (3 June) we saw our first dolphins at 15:16. It was a group of bottlenose just off the shore – another surprise, since we've become used to spotteds. We feel like we are finally getting the hang of swimming with – and not after – the dolphins so that we can better observe them. It was really cool to hear them echolocating and watch them find food in the sand. Everywhere we looked there were bottlenose; they were in front, behind and just when you thought they were gone, one would appear. They did not seem to mind us floating above them while they fed. When they came to the surface they would come very close to us before returning to the sea floor. During these approaches we could tell they were using their echolocation to investigate us, or perhaps our cameras. We were able to see them successfully catch a fish (or eel?) and one seemed particularly excited about his catch, or perhaps it was working harder! We were able to observe this group for nearly 50 minutes. There were at least 4 dolphins, but because they were scattered it will take photo-ID review to be sure. In the group there were 2 juveniles a nice contrast to the large adults we had seen from the boat. It was awesome!
Back on the boat we continued watching these dolphins and soon there were even more: possibly 20 individuals! Some of them were very, very close to shore; we followed them straight up the beach line. They were all over. As we reached the dredge construction project, the water became very silty, the dolphins seemed to reduce their diving and they abruptly turned direction in order to get around the construction site. This obstruction seems like it could cause the dolphins to use more energy and possibly put them at risk of greater predation as they spend more time in deeper water.
When the dolphins were bowriding, which is not very common for the bottlenose dolphins, it was cool to see them turn their heads towards each other. It is getting fun to compare our surface observations to those under water. We also saw the dolphins bowriding on passing boats' bows. One of the highlights of our surface observations was when a single dolphin repeatedly flipped its entire body out of the water, altering the direction but repeating the behavior. We know he caught the fish, as he carried it around afterwards! We can't wait for tomorrow!
Until then,
"Cetacean Nation" (SHU 2014)