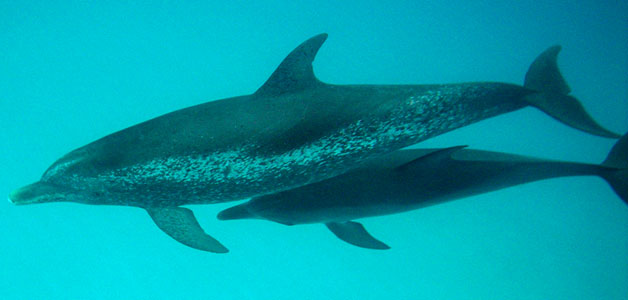 Our Thursday morning began with an introduction to photo-ID, with practice time matching old photographs to the DCP catalog. We looked at #79 and Lil' Jess (#35). Then we began looking at photos from yesterday's dolphin trip. Right away we successfully identified Tina (#14). It was actually helpful to DCP for us to identify this individual dolphin, but the whole process helped us get familiar with some individuals – maybe we will be able to recognize them if we see them during future boat trips! The process was tricky; seeing what is really there, versus our eyes playing tricks on us. We learned that angles are important under water, making it hard to use body parts like dorsal fins to recognize the spotted dolphins. Since we are new to this, we're also not already familiar with the dolphins of Bimini, like Kel and Captain Al.
We prepared ourselves to depart for a dolphin trip at 1500. But, that was exactly when a big squall arrived. We took cover and the trip was pushed back. We were able to depart shortly after 1600, but light rain followed us. At that point, we were not feeling very optimistic. On the bow it was cold and the storm in the distance looked ominous. Some of us thought, "Okay dolphins, you can come out now." And then, the dolphins saved the day! It was a group of 4 Atlantic spotted dolphins, including 2 calves with Lil' Jess (#35) and possibly Freckles (#15). Six students got in to observe this group, but the observation was short. Later, the next six students got in. This time, the dolphins checked us out so the remaining students also joined. Again, the dolphins investigated something at the bottom – it looked like they found some fish! The dolphins were noticeably quieter than our previous encounter. At one point, Lil' Jess was gently pushing her calf's stomach with her rostrum. We wonder what that was about…Kel was able confirm that Lil' Jess's calf is a girl; now she just needs to develop more spots so she can be entered into the ID catalog!
After this group, we came upon a single, adult spotted dolphin. We sent three people in the water; the dolphin came right up to us, then continued on its way. In this brief encounter, however, it looked us right in the eye! Next, we saw another group of spotted dolphins. At first, they were pretty far – but we saw them because they were leaping completely out of the water! As we reached them, they were a bit scattered, but we saw 6, including 2 calves. Before we entered the water, there was some fluke slapping. We were able to have yet another swim; some of us saw the most of the 2 calves. One even spyhopped – which was cool to see from under water. Although we got to see them, they seemed more interested the boat. They were much more vocal than the four dolphins we swam with at the start of the day. Back on the boat, Kel was able to identify Split Jaw (#22), Prince William (#64) and Speedy (#78). These three males were the last to ride the bow, where we were all watching. It was awesome and impressive for how long they stayed.
Back on land, it was a chicken BBQ then off to bed. It was a great day – clearly staying dry is overrated!
Until tomorrow,
"Cetacean Nation" (SHU 2014)