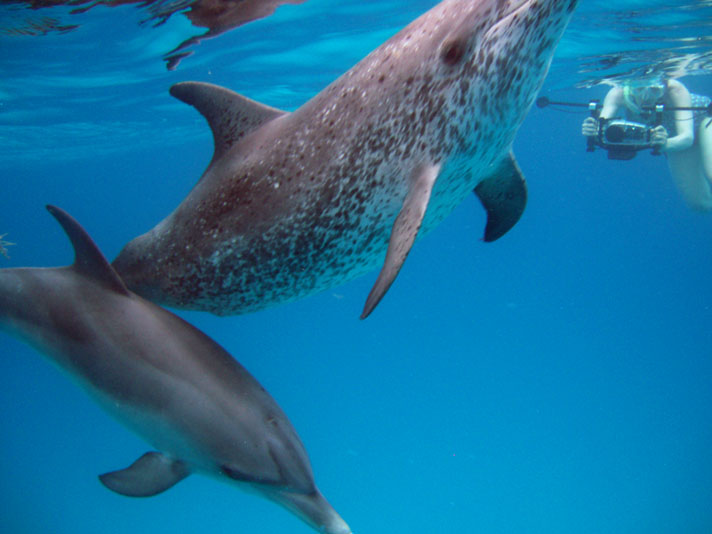 I'm happy to welcome this year's crop of students from the University of New Brunswick Saint John (UNBSJ). I hope you enjoy reading their field reports, throughout the week! ~Kel
On Saturday, six of us wrapped up our time at the SharkLab while three of us made our way from Fort Lauderdale to Bimini (two without luggage ;-(. We waited at the airport for 2 hours, sorting out departing students and waiting for the arriving students. Then, we drove to the water taxi – it was a bit of a clown car! The water taxi broke on our way to the hotel, so we were dropped off a short ways away and had to walk (oh, the horror!). We arrived at the Sea Crest, got settled in with Kel's "riot act," and after lunch we headed to the boat.
Our dolphin trip was lots of fun! At first, we saw 13 Atlantic spotted dolphins. It was a mixed age group, with at least 4 calves. One calf was so entertaining! The very young calf flipped belly up at the surface and slapped its fluke! There were also leaps while we observed the dolphins from the surface. After a while half of us entered the water – at that point there were 4 dolphins: two mother/calf pairs. One of the adults was Lil' Jess (#35) with her older calf (pictured here, with Kel recording them). The other mother was younger and we will work to ID her tomorrow. We saw the foursome swimming along the sand together, with the youngest calf rubbing its back in the sand. At times the dolphins came so close we were sure they were going to touch us. But, we know that responsible wildlife interaction means no touching. When the second group of us went the water, we were able to observe the same group of four dolphins. They swam side-by-side a lot – perhaps a sign of the mother/calf bond! Again, all four joined together and slowly cruised across the bottom. We were all pleased with how warm and clear the water was – it was like a pool! It was nice to actually see the bottom.
Our ride home was fast and bumpy, but smooth compared to the small skiffs some of us were in last week. We had to pick up the pace as rain was approaching, but we managed to avoid it. Back at the hotel, we had a delicious supper after much needed (fresh water!) showers. After supper we watched DOLPHINS before heading to our comfy beds. We're looking forward to tomorrow!
Until next time,
UNBSJ 2014