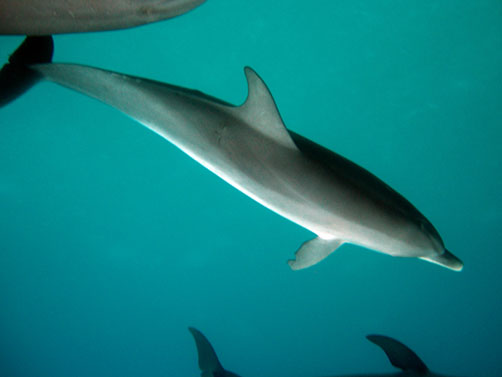 Thursday was our (Salma's and Nicole's) last full day on Bimini. Though we are sad to go, we wanted to make the most of the time we had left. Our day began with a visit to the Shark Lab on South Bimini. There we learned about the different species of sharks found around the islands and were able to "meet" some lemon and nurse sharks. We also had the chance to hear all about the incredible things the scientists at the Shark Lab have been doing.
After a quick lunch, we set off on the boat with Bimini Adventures. The trip started with a stop at Three Sisters for a bit of snorkeling. We enjoyed the calm water and the bit of sun that was peeking through the cloud cover for a little while. Then we set off on our dolphin quest. Less than half an hour after beginning our search we came upon a group of 14 spotted dolphins! We saw Inka (#93, pictured here), Tina (#14), Leslie (#80) with her calf, Lil' Jess (#35) with hers and un-named #70 with hers! After a short time, we were able to get in the water. This large group of dolphins was very inquisitive! They swam around, seemingly investigating the humans. We were able to get quite a bit of underwater video and still photos! Afterwards, the dolphins had stayed by the boat so we were able to get right back in the water. The group of spotted dolphins was so large that all of the snorkelers were able to really experience how curious and playful they are. It was incredible! After quite a lengthy encounter, we were able to get back in almost right away! This encounter was even longer than the last and we got some amazing data. Ten minutes later, we were able to get in the water again! This was such a lucky day and we are so happy to have met up with this group of curious dolphins!
Just as everyone piled back on board, we heard thunder in the distance. It was still early and we did not want to head back to the harbor yet so we moved a bit away from the incoming storm and took in the view. We enjoyed some lovely snacks, including an amazing batch of brownies, which was the perfect icing on the cake of an unbelievably good day.
We are so sad to be leaving this dolphin paradise but are so thankful to have been able to have this experience. And we could not have ended it any better! Thank you for sticking with us and sharing our experiences with us!
Until next time,
Nicole, Salma & Kel