Wednesday morning began with a beach clean-up here on the island. We did a loop that extended out to the water and into the trees. It was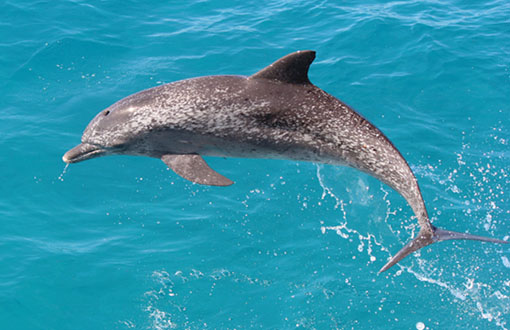 astounding to find so much trash hidden and buried beneath sand, soil, trees, and even more garbage! It was really eye opening to see all the forms of trash that will never integrate into and benefit the ecosystems in which they have been put. We may have made a small impression on an older local gentleman – he saw us picking up trash and decided to help by putting together a huge pile of trash that he collected! Our thanks goes out to DCP Conservation Member, Christa, for sponsoring our clean-up and supporting DCP.
After this chance to give back to Bimini we got ready to go out onto the boat. Barely an hour into the boat trip we had spotted some dolphins! This was a group of about 7 dolphins, including two mother calf pairs. We identified Leslie (#80) and her calf (#99) from the boat, and suspect that Freckles (#15) was also there her calf. The dolphins stuck around for quite a while and we were able to get a great underwater observation of the dolphins! Just as we were getting back on board, the dolphins decided to turn around swim super close past the stern! Since Kel was among the folks who still had their fins on, Salma quickly passed the camera back to her and recording continued. After this two part encounter, we finally boarded the boat (for real) and continued our search for another group of dolphins! A little while later we spotted a large group of dolphins that included the very playful Tilly (#87). We also thought we glimpsed Romeo (#10); when we reviewed still photos we laughed: judging from the photo included here, we'd say Romeo was definitely there!
We were able to get another encounter, although this group of dolphins was more interested in surfing the bow wake than observing humans. No matter, we hopped back on board, observing the dolphins for a while longer before they swam off. A short while later we saw one adult dolphin come up to the bow for a bit and then swim off followed by a calf that remained with the boat for quite some time. Eventually there were a total of 7 dolphins, including a mother (likely un-named #70), her calf and possibly un-named #75, an adult male. We got in for the quickest moment, but the dolphins did not stick around. So, that meant observing the dolphins from the bow until they swam off.
We can't believe our luck this week! It's as if the dolphins look for the boat and we don't have to look so hard for them! We are so grateful that this week of lucky dolphin sightings was the final week for the DCP interns. We CAN wait until our last dolphin trip tomorrow afternoon – neither Salma nor Nicole is really ready to leave behind this beautiful island and the dolphins.
Until next time,
Salma, Nicole & Kel