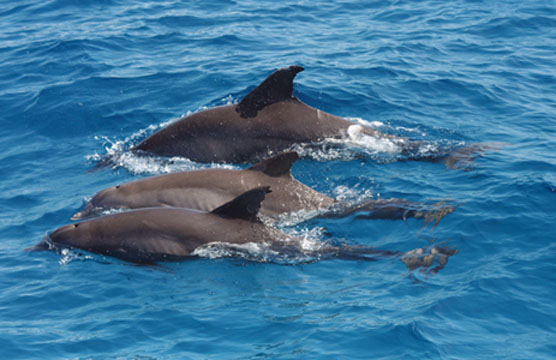 Tuesday was a full day for the DCP Bimini team. The group of international guests had enjoyed our presentation and interactive discussion so much last week that they asked for us to return. We met with them at the Sea Crest Hotel in the morning and answered a variety of questions about dolphins, DCP and a few of the research questions at which the DCP has looked. It was a great discussion and it gave the interns another opportunity to take the lead during an interactive presentation.
After a few hours of work and a lunch break, we set off on our quest for dolphins once again. About an hour and a half after our departure, we spotted some dorsal fins a short distance away. It turned out to be a group of bottlenose dolphins who were crater feeding! We were able to get lots of surface photos of dorsal fins that we will add to our bottlenose dolphin catalog. We may even be able to identify some individuals by comparing the photos we took to those that are already in the catalog! We were all also able to get in the water to make underwater observations, both with the video and still cameras. We are thrilled to have so much new data to go through!
Salma and Nicole are so happy they were fortunate enough to see bottlenose dolphins crater feeding again! We are all excited to find out what more we will see!
Until next time,
Nicole, Salma & Kel