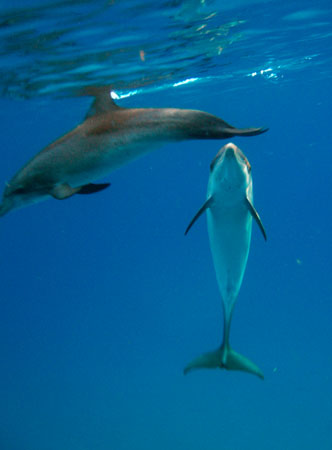 Friday and Saturday were days off the boat for DCP so we filled them with social quality video analysis, data entry and laundry. Nicole's family also came for a quick visit and she gave them the full Bimini experience, including delicious Bahamian cuisine and a tour of the island. On Sunday morning they went paddle boarding around the mangroves with Katie from Bimini Sands and they saw sting rays, lemon sharks, sea stars, lots of fish, and even an eagle ray!
Sunday afternoon was another boat trip for the DCP team. We headed out on the extraordinarily calm water and directed ourselves on our search as usual. A few hours later, we were still looking with no luck. Suddenly, Captain Audley shifted our course and took the guests and the interns by surprise. Captain Al and his crew had spotted dolphins far in the distance and we were heading over to check them out. They turned out to be bottlenose dolphins that were crater feeding! There were at least 15 of them and we were able to get in the water and observe their feeding techniques and social behavior for quite a long time! Fully satisfied with our time spent watching the bottlenose dolphins, we began to head for home. Almost immediately, the guests on the bow noticed a small group of spotted dolphins zipping over to swim with the boat. It was a group of three; a mother and presumed calf and Tilly (#87)! Tilly mostly swam upside down below the other two dolphins as the three rode the bow. Captain Al thought this might be a great opportunity to get in the water with some spotted dolphins so everyone geared up again. While we were at the stern, we noticed two more dolphins behind the boat. In the end we were able to get extensive underwater observations of these two juvenile spotted dolphins, at least one of which was female, as they circled and investigated our group for a good while. They eventually swam away so we hopped back on the boat and headed for home once again. Out of nowhere, the two juveniles returned to the boat rode our bow for a few minutes before disappearing from view.
We had a great day on the water and feel so lucky to have seen both bottlenose and spotted dolphins! We look forward to going out to collect more data and observations soon!
Until then,
Nicole, Salma & Kel