Thursday started off like most days, with a few hours of data processing, and then the regular routine of lunch and getting ready to go out on the water.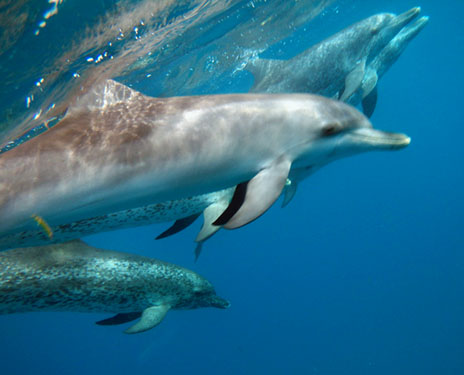 However, the forecast was a bit murky – just like the sky! As we headed out on our normal dolphin route, we noticed some intimidating clouds to our west. We continued for a little while before the clouds were above us, leaving us scrambling for our raincoats. We turned the boat around and anchored it to a mooring line on a nearby dive site to wait the storm out. We were moored for about ten minutes before the sky was blue and shining above us once again.
With clearer skies, we headed back out to look for dolphins. While continuing with our loop, our captain got a friendly tip and soon enough we saw a rather large group of spotted dolphins – at least 11 individuals! Captain Al quickly got the guests ready to jump into the water because the current was going to pull us away from the dolphins! Sure enough, when we got into the water the dolphins were right in front of us! We (Salma & Nicole) managed to even identify Split Jaw (#22) and Billy (#64). Identifying two dolphins in the field felt great! But, there were other dolphins, young and old, like those pictured here, so hopefully we'll be able to identify even more when we review the video.
Though the water was a bit murky after the squall, we were able to collect a bit of video & photographic data. The interns are still learning the art of collecting underwater video footage and at the same time learning first-hand the unpredictable nature of the ocean! But, we're hanging in there, and certainly excited for the next opportunity we'll have to see the dolphins!
Until then,
Salma, Nicole & Kel