Monday was a day of surprises and good fortune. It began as a clear sunny morning and we worked on data analysis before getting ready to head out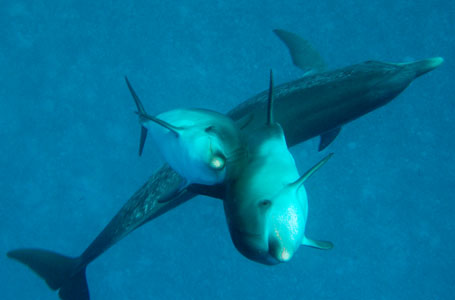 on the boat. Two hours before the boat was supposed to leave, it began pouring rain! Salma and Nicole were quite concerned about the possibility of not being able to go out on the water but Kel explained that the weather here can change in a short time. And sure enough, by 3 pm the sky was clear and we were able to climb aboard the Bimini Adventures boat once again to search for dolphins. This time, we found some right at the mouth of the harbor! A group of bottlenose dolphins took us by surprise and we were able to take a few dorsal fin photos for the catalog. After a short time spent observing these dolphins, we continued on our course to look for others. About an hour later a group of Atlantic spotted dolphins appeared! It was a group of seven, including Tina (#14)! Fifteen minutes later, another group of four joined the original seven and shortly after that we were able to get in the water to swim with them. Believe it or not, this was actually the first time our interns had the chance to swim with spotted dolphins! After a ten minute encounter we were back on board and had the opportunity to observe the group from the boat for another hour. The group had since grown to 13, with at least 3 calves, 3 juveniles and some sub-adults and adults. One of the energetic calves seemed to be practicing fluke-slaps, a skill it might have learned recently. We were able to swim with this group two more times and we got some great underwater photos that we can use to identify the dolphins later.
The afternoon was jam-packed with dolphin sightings: Captain Al had seen a group of bottlenose dolphins while the rest of us were watching the spotteds by the boat and then on our way back to the dock we saw two more groups of bottlenose! What a treat!
It was an incredible day on the water that ended with the sun out and shining! Life on the island can be unpredictable and we are so glad the rainy day turned out so well in the end. We cannot wait to go out again very soon!
Until then,
Nicole, Salma & Kel