On Saturday, we started with our last dolphin survey. We snorkeled at "3 Sisters," specifically the big sister, on the way. We saw a butterfly fish, puffer fish, an eel, parrotfish, some of us saw the sea arch through the rock. We weren't used to the snorkel time before dolphins, so lots of us got sunburned by the end of the trip! We were searching and searching, with the waves increasing, and thought we would go back to shore without dolphins. Then, just offshore, some of us saw it – a dorsal fin! We thought it was a bottlenose, but had a hard time finding it again to be sure. While looking for it, we saw 4 spotted dolphins! We did not have much time (again!), but were able to get in for a great underwater encounter. Tina (#14) was there, and we were all so pleased that we were able to make a re-identification in the field! The female calf was very interactive with all us and as we departed, she came to the bow and then the stern wake.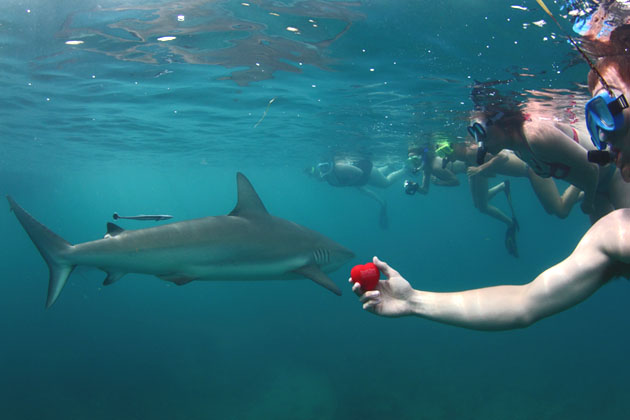 After a quick lunch break, we were on the boat again, this time for our shark experience. For the first time, we went far in another direction – and were surprised when we arrived at Honeymoon Harbor. We wondered if sharks would be so close to the beach and then we found out that we were going to experience interacting with southern stingrays! There were at least 15 different individual stingrays, and they were all over our captain, Al! There was a giant female – at least 4 feet across, if not more. We also saw two nurse sharks, one of which was fairly big and came quick close to us, even at the surface. Some of us made sure to never put our feet down; despite being a little afraid everyone had a good time.
We thought that those nurse sharks might have been the main attraction, but then we headed to see the Caribbean reef sharks, and a single sharpnose. We preferred to call the sharpnose "the baby," but we were corrected. Because the water visibility was not great, it made it feel like the sharks were sneaking up on us! On the boat, two of us had a chance to throw fish to the sharks (away from the swimmers of course). After everyone was on the boat, Al threw larger pieces of fish to the sharks and that drew out even larger sharks. In total, we saw at least 4 reef sharks, plus the sharpnose, and even more from the surface. It was cool to watch them eat the chunks of fish! We were all so close, even with our Sacred Heart heart! Thanks for the photo, Captain Al!
We had a finale dinner at the marina before going out to Sherry's Beach Bar. We got to hear some junkanoo drumming and local music before heading to bed. We had lots of laughs on our last night! Can't believe we have to leave tomorrow, but many of us are already planning to find out how to come back! After all, the song does say, "once is not enough!" Tomorrow morning we'll wrap with a beach clean-up near the hotel.
Thanks for following!
"Bobby & The Bimini Babes" (SHU 2013)