Our Saturday morning began with a guest lecture from College of the Bahamas Professor, Dr. Radhika Makecha. Dr. M talked about dolphin play and personality and connected it to other species – you could say it was a potpourri! Then we visited the Bimini Museum and the local straw market. After lunch, it was time for the boat!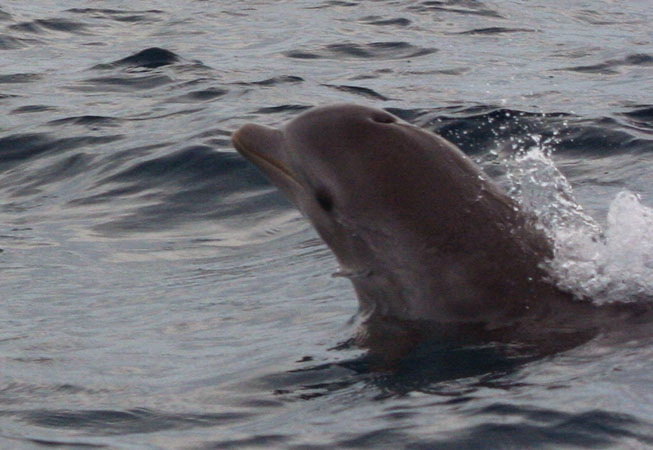 We waited very patiently, because it took a while…and we were sad when we reached the point in the path where we would turn around. But, that's when we saw bottlenose dolphins! There were at least six dolphins, likely more, but none was particularly interested in us or the boat. We did get some good dorsal fin views and at one point, there were quite a few all riding the bow. After we decided to leave the bottlenose group in search of other dolphins, we almost immediately saw Atlantic spotted dolphins! We watched the spotteds from the boat for a bit, and enjoyed their bowriding. There was a minimum of 14 dolphins, including several calves. Suddenly, Kel said: "Okay, it's time to go in." Once we were in the water, we were amazed at how close the dolphins came to us without actually ever touching us. We noticed several rake marks on their bodies – the clarity and color were impressive. We saw pectoral fin contact under water and lots of surface activity from the boat, including rubbing in seaweed. Back under water, we saw lots of social interaction – and at times it seemed like human Bobby thought he was a dolphin. In the midst of the dolphins, we also saw a lone sea star. It was also really cool to hear the clicks and whistles – even when they were out of sight! When the dolphins were gone, we headed back to the boat expecting that we would be done for the day. But, we (well, okay our captain, Al) found them again! We were able to get in the water again. This time, we saw more mouth to body interactions – not quite a raking, but clear contact. Once again our underwater observation ended with bottlenose coming through the group. They appeared to be pursuing the spotteds and then suddenly both groups were gone. Those of us on the boat were able to see at least six bottlenose come out of the water, in near perfect synchrony, during their pursuit of the spotteds.
We are still absorbing all that we saw today! From our amazement at how the mother dolphins brought their calves so close us, to see both species, so many age classes – it was amazing. Then back in the harbor, we saw a nurse shark and more yellow rays!
Until tomorrow, "Bobby & The Bimini Babes" (SHU 2013)