Sunday, 19th of August was brought a new batch of Hunter College students to Bimini. I spent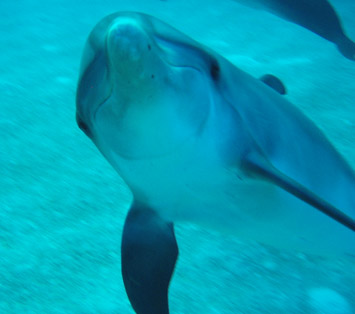 the morning in search of the dolphins (with the visiting photographer), while students had orientation back onshore. We searched and searched for dolphins, but they were not to be found. In the afternoon, we had the same luck, despite the boat full of eager students. We kept our optimism though and on Monday, we were not disappointed. First, I spent the morning with a small film crew, working on the live-action portion of an upcoming program, featuring dolphins, to air on PBS. During a swim break, we spotted the spotteds and had great observations throughout the morning. Early in the afternoon trip, we saw bottlenose dolphins and a little while later we saw a mixed species group, including the un-identified youngster pictured here. Tuesday morning I teamed up with the visiting film team once again and saw more dolphins! It was an absolute pleasure working with this team. Tuesday afternoon was spotteds-spotteds-spotteds and Wednesday meant more mixed species observations in the morning, another mixed species group in the afternoon as well as lots of spotteds. The dolphin group sizes were large, in the neighborhood of twenty individuals.
We were grateful to get our Thursday afternoon dolphin trip in, even if we did not get many underwater observations. With Tropical Storm Isaac on the horizon, we were just glad to have observed three bottlenose and then two adult spotteds from the boat safely. When all was said and done, this week we saw Buster (#04), Romeo (#10), Lumpy (#17), Split Jaw (#22), Swoosh (#36), Niecey (#48, and calf), Prince William (#64), Tim (#69), Speedy (#78), Leslie (#80, and her calf), Stefran (#82), Tilly (#87), Inka (#93), Milo (#96), un-named #s 24, 70, 95, 97 and possibly Cerra (#38).
The weekend will mean storm prep for me and the other residents of Bimini. We do not expect the storm to be very bad in Bimini, but we need to be prepared.
More after the storm,
Kel