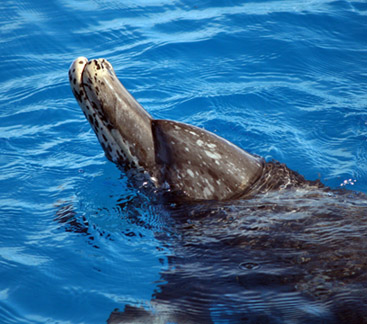 Our Monday started all together, swapping photos for future ID'ing, catching up our data processing to-do list and getting an introduction to o-ring maintenance and DCP's TopDawg camera system. Soon, Kel was out with Bimini Adventures, whose trip began with an extended snorkel stop at "3 Sisters" and lunch onboard the boat. After our snorkel, and with full bellies, we headed in search of dolphins. Once again it was bottlenose dolphins that greeted us, this time, two mother/calf pairs. This may actually be the first time Kel has even seen this group composition for bottlenose! We got a good look the foursome, but they were not interested in interacting with us under water. Not long after we continued on, we saw the tell-tale, thinner dorsal fins of our Atlantic spotted "friends." It was a group of ten, including Buster (#04), Split Jaw (#22, pictured here), Speedy (#78) and at least one male juvenile (although there were about six juveniles in the group) – so, a bit of a boys' club it would seem! The group was on the move and we were able to observe them from the boat for over two hours, including a quick look underwater! It was incredible to watch them go through different behaviors: belly-to-belly swimming, pectoral fin contact, bow riding, fish chasing, rolling over one another and more. At one point, the group split apart and then came back together, seemingly with even more dolphins because suddenly un-named #75 (also a male) was there. All in all, a great (long) day for Kel!
Liana and Pam set off on another trip with Bimini Undersea. All the familiar faces onboard Adventurer were excited to (hopefully!) repeat yesterday's exciting encounters. Soon, we came across a group of two bottlenose dolphins. We are pretty sure that we saw Tt#31, whose dorsal was fresh in our minds after seeing it a couple days ago. We stayed with this group of two for about fifteen minutes, before continuing on only to come across a larger group of bottlenose. There were about ten of them crater feeding, as well as interacting with each other a lot. We witnessed a lot of pectoral fin contact and even some head butting! Today, we (the interns) were able to use the Top Dawg, an underwater video camera that's almost as cool as the MVA, to film the dolphins. It is a great skill for us to learn and we are looking forward to being able to use it in the future.
After our time in the water, we continued to observe the dolphins from the boat for another fifteen minutes. The water was calm and clear enough for us to actually be able to see the craters left in the sand from the dolphins feeding. We headed back to Bimini, very satisfied with another amazing day of with the dolphins, especially the elusive bottlenose! We all can't wait for our next dolphin trip! 
Until then,
Pam, Liana & Kel