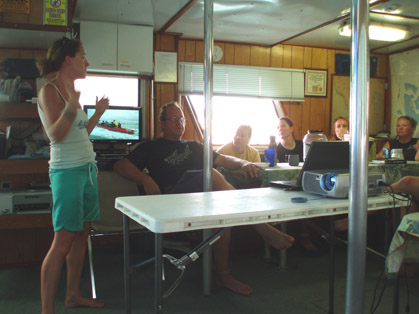 On Saturday, we got the opportunity to go onboard the Coral Reef II, the research vessel from Shedd Aquarium in Chicago. We talked to an eager, enthusiastic group of K-12 teachers from the US about DCP and our dolphins here in Bimini. Kel covered the basics of what DCP does, the difference between dolphin species, sexes, and the importance of identifying individuals within a population. The group participated and asked great questions. It was great for us all to see other people as excited about dolphins, learning in general, and conserving the environment as we are.
After the presentations, they graciously invited us to stay for a delicious lunch, which was equally as enjoyable. They sent us off with some presents and things we'd been lusting after: some candy, fresh fruit, portabello mushrooms and Dr. Pepper — a real treat here on the island.
We headed back to shore satisfied and refreshed from our "encounter" with the teachers. Thanks Shedd!
Until next time,
Liana, Pam & Kel