Wednesday was our first trip on Bimini Adventures' Dakota, and our second trip was much different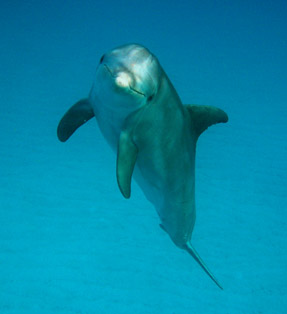 than our first. The clouds in the distance as we headed out seemed a bit threatening, but it turned out to be a great day. We had a few families on the boat with us, and it was invigorating to have kids just as excited as we were to see dolphins! We started with a snorkel stop at "The Bimini Road" (aka "Atlantis") to get everyone acclimated to snorkeling before we encountered any dolphins, and Pam had her first encounter with a remora! We'd seen them on the video logs in CT, but never had one tried to suck on our toes before! There were mixed reactions to a 6-10 foot (reports varied immensely) nurse shark (Ginglymostoma cirratum), but we knew deep down the shark wasn't interested in us.
From there, we headed to the dolphin grounds past North Rock and began looking. We were losing hope of seeing dolphins, when suddenly we saw dorsal fins next to a nearby boat, the captain waving us over enthusiastically and pointing. It was a group of about 12 spotted dolphins and four bottlenose. We were able to identify a few of DCP's Adopt-a-Dolphins, including Trudy (#57), and Stefran (#82). We were able to get in with the dolphins, who checked us out for a bit and then eventually swam off. We got on the boat, thrilled with our first swim with the dolphins and eager to find more. We didn't have long to wait, as we saw three dolphins jumping in the distance, and then a little while later they led us to a bigger group. There were 7-9 spotted dolphins in this group, and several of them were bow riding. We were able to get in the water with them for almost a half hour. We saw two more Adopt-a-Dolphins, Tilly (#87) and Inka (#93). Tilly was especially friendly and stayed close almost the entire time, so we were able to get some really good shots of her. The group was very vocal and came back to us several times, before finally departing.
We got back on the boat, exhausted but just about as happy as we could be. Twenty dolphins, full memory cards, and most of all, exciting new memories! We can't wait to go out on the boat again and neither one of us will ever forget our first time in the water with the dolphins!
Until next time,
Pam, Liana & Kel