On Monday I joined a last-minute dolphin trip with Bimini Adventures. The boat was filled with excited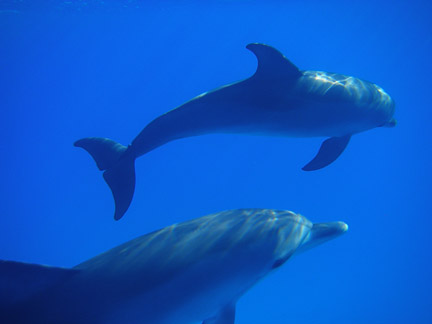 kids and parents and we were all glad the seas were calm, and became even calmer as the day progressed. After two swim breaks and a couple hours of searching, we saw them! At first there were two Atlantic spotted dolphins – Stefran (#82) and an older calf/younger juvenile. Moments later Tina (#14) came to the bow. I was very excited to see them all, but was slightly concerned that Tina did not have a young calf with her after being pregnant last summer. This is one time where I would be happy if I've gotten the ID wrong and it wasn't really Tina after all. I am fairly sure that Cerra (#38) also came by the boat with another older calf/young juvenile. We were able to swim with the two youngsters, one of which was male and may be added to DCP's ID catalog as he has both a noticeable spot and scarring along his peduncle.
Our second water entry was shorter, but we got to see one of the older dolphins grab a fish! Since it was getting late, we climbed back aboard the boat and headed for home. On the way, we saw a few more dolphins leaping in the distance.
The seas off Bimini are calming down and the water is already warm. So, stay tuned for many more field reports!
Until then,
Kel