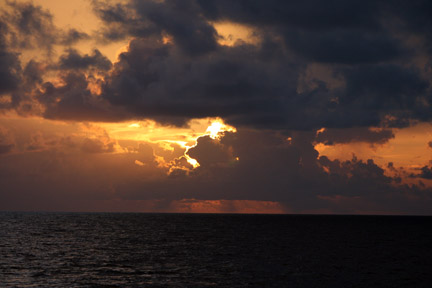 On Sunday, we headed in search of dolphins and although the seas were a bit choppy, we were sure the enthusiasm of our mother/son passengers would bring a great day of dolphins. Unfortunately, we were all left a bit disappointed!
Monday's trip began with a snorkel stop at "The Bimini Road" (aka "Atlantis"). Soon, we were in search of dolphins – and we searched, and searched, and searched. Thankfully, spirits remained high and we saw them at the last moment (which is beginning to seem like a theme!). There were over a dozen dolphins, including Romeo (#10), Tina (#14 – still looking pregnant), Split Jaw (#22), Lil' Jess (#35) – with calf, Trudy (#57), Tim (#69), Leslie (#80) – with calf, Stefran (#82) and Addie (#84). Split Jaw was busy chasing Addie all about and the calves were quite inquisitive. There was an unknown mother/calf pair that hung around quite a bit at the end, checking us out and rubbing in the sand. Hopefully I will be able to ID the mom once I review the video! Thank you Sea Crest!
We are also keeping a close eye on Hurricane Irene which is forecasted to impact us mid- to late-week. We're hoping for one more afternoon on the water before hunkering down and staying safe!
Until next time,
Kel