Wednesday began with an 'Intro to DCP' talk to the students visiting at Sea Crest Hotel & Marina. They were a wonderful audience and I hope they are enjoying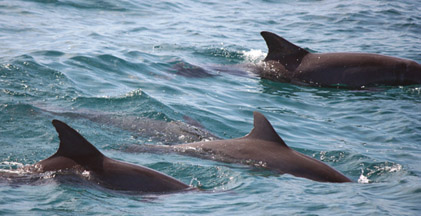 their exposure to Bimini's dolphins. I was particularly eager for the afternoon dolphin trip as it was my 500th official dolphin trip (DCP's 517th since 2003). I am so grateful for the space provided by Bimini Undersea and Al Sweeting, Jr. Thank you!
The trip began with a snorkel stop at "The Bimini Road" (aka "Atlantis"). We saw at least four bottlenose dolphins pass by during the break and caught up to them shortly after (at least, I suspect they were the same). This group of four was on the move north, utilizing fairly long breath holds. I was pleased to get some useable ID shots. This was followed by a long, splash-less search for dolphins – until the very end, that is. We finally came upon some more bottlenose dolphins at the very last moment. Phew!
Tomorrow should be another double duty day, so stay tuned!
-Kel