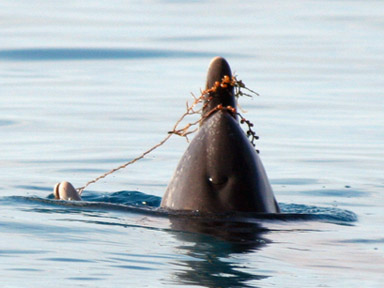 Tuesday was a well-earned day off for Brittany and Alexis. They spent the day resting, hanging at the beach and exploring the island, by bike and on foot.
Kel got called on a last minute dolphin trip with Bimini Undersea. Thankfully the mild effects of Tropical Storm Brett on Sunday night had fully subsided and these seas were once again flat, flat, flat. The boat passengers were fantastic, asking great questions and spotting the dolphins! At first we only saw a few, but we quickly realized that were in the midst of a very large group of dolphins. Although they were in at least three different subgroups, they totaled over thirty individuals – and that's being conservative. There was a lone bottlenose in the mix as well and we were able to observe the dolphins under water a total of three times – each time more incredible than the last. The dolphins were very into themselves and highly vocal, but they came extremely close to us. At one point, the two dolphins pictured here seemed to be playing a seaweed game – out of the water! It looked like it might have been a mother/calf pair. I was able to confirm Romeo (#10 – and who is still looking pregnant), Tina (#14), Lone Star (#56), Prince William (#64), Tim (#69), Speedy (#78), Addie (#84), Tilly (#87), un-named #75 and several calves. Hopefully we'll ID even more when we review the video!
Tomorrow the third 2011 summer intern arrives. So, stay tuned for more reports!
Until then,
Kel, Brittany & Alexis