As the interns headed out to sea on Thursday they were amazed by the calm, beautiful blue water!  It was almost completely flat and glass-like in some areas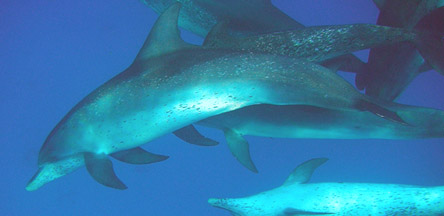 making it a perfect day to spot dolphins from afar!  We sighted a group of about seven bottlenose dolphins early in our trip very close to shore but we moved on quickly as they didn't appear interested in a swim.  Not long after we sighted a second group of bottlenose, and though we attempted to get in the water with them, they swam off as soon as they noticed our presence.  As we sped off from our bottlenose friends, they gave us a farewell by riding the waves from our boat!  At around 1730 we encountered a spotted mother/calf pair riding the bow of the boat, and not soon after we came upon a group of eight spotteds who led us to an even larger group of 20 or more!  We were quickly able to ID Swoosh (#36), Split Jaw (#22), Romeo (#10), Addie (#84), un-named #088 (pictured here) and possibly Leslie (#80).  The large group quickly scattered all around the boat, but we were able to jump in the water with a sub-group of about seven dolphins who gave us a quick, but up close glimpse of them below the surface.  As that group moved off, another small group of four dolphins followed along beside us and gave us quite a show of jumping and leaping!  It seemed they were almost teasing us by coming close to the boat, then moving slightly away to jump and leap to higher heights than what we have seen from the calves.  It was a spectacular sight to see and they continued to do it for some time as we eagerly followed them.  We attempted one more time to join them under water, but they were too busy going about their own game of acrobatics to be concerned with us.  Regardless, it was a great end to a day full of dolphins! 
Kel's trip was similarly eventful.  As their boat moved out to sea they were greeted with turtles, schools of fish, and a group of gulls!  After taking a brief snorkel and swim break, the group encountered a large group of dolphins including some of the same dolphins the interns saw, such as Swoosh (#36), Romeo (#10), and Addie (#84)!  Kel and the passengers spent some time watching the dolphins under water, but the dolphins seemed to be scattered everywhere. Kel – and the passengers – were able to ID Tilly (#87) once again who has been a crowd favorite all week. Later in the day, Kel was also able to catch a glimpse of Trudy (#57) and Romeo (#10), with Tilly (#87) in tow once again!  Kel's trip was full of dolphins for the rest of the afternoon and into the evening, but they were forced to say goodbye to them as the daylight faded and the sun went down on Bimini. With the extraordinarily calm waters and clear visibility we're all keeping our fingers crossed for good footage and photographs. And we're looking forward to the weekend's trips!
Until the next trip,
Brittany, Alexis, and Kel