The interns departed on Tuesday at 1530hrs excited and eager to encounter more dolphins!  We sighted a group of about nine spotted dolphins at around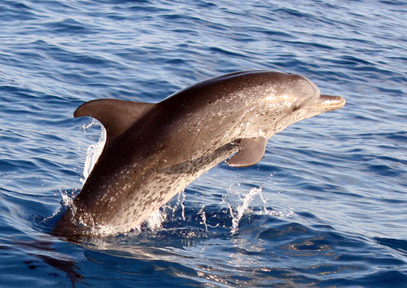 1700hrs who were very much on the move and swimming fast back toward Bimini.  There were at least two calves in the group and we were even able to spot Trudy (#57), Split Jaw (#22), and Romeo (#10)!  The group was pretty rambunctious; there was plenty of jumping and leaping from the calves, some play with sea grass, and some mating behavior as well.  We got to view their watery acrobatics from the boat for over an hour and half, before they finally slowed down enough for us and the passengers to join them under water!  We had a great swim with the group of dolphins including a couple curious calves who seemed to enjoy darting in between passengers.  Eventually the group lost interest and were off faster than we could keep track of!  We headed back to the dock happy to have been able to watch the group for so long and enjoy the beautiful Bahamian day.
Luckily, Kel's boat trip was just as successful!  They spotted a group of at least six spotted dolphins, including one bottlenose who tagged along for a bit.  She was able to ID Tilly (#87) and un-named (#93) as part of the group, and later they were joined by Lil' Jess (#35), Prince William (#64, aka Billy, pictured here) and Speedy (#78).  Kel and the passengers were able to get into the water with the group. On the second swim, Tilly and Speedy were very close to the guests! As sunset approached, the humans had to head back to the dock, even though the dolphins were still in view. The trip ended at around 2000 hrs, but all were content with their dolphin sightings for the day.  We all captured some great footage and photographs and can't wait to do the same tomorrow!
Until the next dolphin filled trip,
Brittany, Alexis & Kel