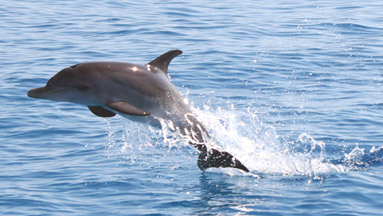 Saturday's amazing dolphin trip included a combination of passengers, many from Bimini Undersea and some from Bimini Adventures. It was great having everyone onboard – including the combo crew! The weather was absolutely stunning; it was definitely the best weather day of the week. We were not in the 'dolphin grounds' for long when we saw six bottlenose dolphins. They were on the move, but I think at least three will be matches to already catalogued animals. Re-sightings are so exciting!
But, of course, the day only got better. We soon saw a large (20+) group of spotteds, including Lone Star (#56). As the day progressed, we also saw Buster (#04), Tina (#14), Prince William (#64, aka Billy), Tim (#69), Speedy (#78), Tilly (#87), un-named #24 and 40 and of course, the leaping calf pictured here. It's also possible that Vincent (#11) was there, but I'll need to review video.
In addition to these spotteds, we saw more offshore bottlenose dolphins! I can't help but wonder if these dolphins are taking a rest on Bimini's shallow bank after a long bout of travel. Whatever has brought them to Bimini's shallows – and the spotted dolphins – I'm very much enjoying these observations!
Finally, we saw a mixed species group, with Atlantic spotted and 'coastal' bottlenose dolphins – the 'ecotype' we typically see here in Bimini. There was a lot of 'mating,' but the group appeared to be all male. Very interesting observations; I can't wait to review the video! But, first, another trip tomorrow!
Until then,
Kel