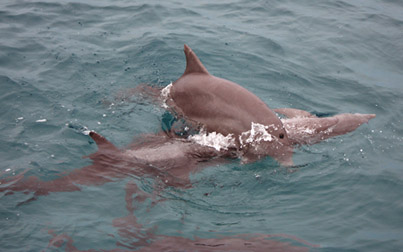 Sunday's dolphin trip departed Sea Crest Hotel & Marina shortly after 1500. The visiting researcher and her students were ready for Bimini's dolphins. They didn't have to wait too long as a large group of Atlantic spotted dolphins passed by the boat at 1644. At first we only saw three dolphins, including Tina (#14) and someone's calf. But, soon, there were at least 14 dolphins, all traveling south. Included in the group were Tilly (#87), Swoosh (#36) and at least five calves. More dolphins continued to pass by, all with a southerly direction: Split Jaw (#22), Lone Star (#56), Prince William (#64), Tim (#69), Speedy (#78) and Stefran (#82) were all there. Split Jaw and Lone Star seemed to be giving each other lots of attention with Lone Star often belly up to Split Jaw.
The group then seemed to split apart and we were left observing the boys, Split Jaw, Prince William and Tim. At 1815, three bottlenose dolphins (two confirmed males) were suddenly in the group. There was lots of socio-sexual behavior, much of which occurred at the surface as you can see in this photo. More dolphins joined, then left and we continued to see more spotted dolphins scattered about, including un-named #24, #40 and #75, and possibly Joanne (#86).
Throughout the day we in and out of the water, but each time was fairly brief. It was great having dolphins by the boat all day though!
Until next time,
Kel