We departed the dock around 1400 again on Monday. The wind had picked up, but we were confident (as always) that we would see dolphins. At first, the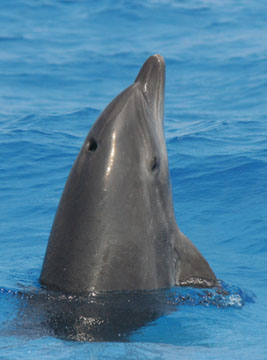 winds were a bit too much for us, so we headed closer to shore for some snorkel time at "The Bimini Road." There were plenty of fish along the rock formations for guests to see.
We had our hand at "the dolphin grounds" once again and although things were breezy and bumpy, we were lucky enough to see a group of bottlenose dolphins! Often in this area the bottlenose dolphins surface once near the boat and then are not seen again. But today, we got to watch this group for some time – they were even spyhopping and half-breaches. It was so cool! I was also able to collect quite a few dorsal fin photographs. These will be sorted as we look for matches to DCP's bottlenose photo-identification catalog. We'll see if they all match or if some are previously unidentified individuals.
Thanks to Bimini Undersea and their guests for another great day,
Kel