Due to guests' schedules, Friday's dolphin trip was slightly abbreviated. But, the guests were fantastic company – and so were the dolphins! We first saw about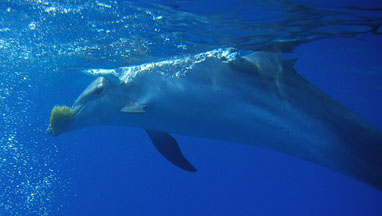 16 Atlantic spotted dolphins at 1543. They had their own agenda, one that we could not figure out! They were breaking apart, coming together, changing direction, mating, not mating….but we did see Juliette (#12) and Lil' Jess (#35), each with calves, as well as Billy (#64), Tim (#69) and Speedy (#78). We were able to see to get an underwater swim-by from many of the dolphins before headed back toward shore in search of more.
On our way, we saw a very hearty loggerhead turtle. We got a nice view of him before he took a breath and dove down. Soon after, we saw at least six different spotteds! This time Trudy (#57) was in the mix – perhaps with her older calf. We also got lots of good views of Tilly (#87), including her playing with sargassum (see picture). Romeo (#10) and Split Jaw (#22) also stopped by for a brief visit. Unfortunately, Romeo was not with a calf. But, we'll see what future observations bring!
Until next time,
Kel