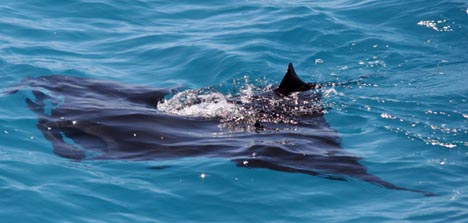 We kicked butt (over last year's group!) during our morning Photo-ID practice session. We left the dock at 1411, heading out to the same snorkeling site as yesterday. Leaving the harbor we saw a mystery shark (bull?) and a manta ray! It was a dark manta, lacking the light coloration on its ventral side. These types are not generally seen around Bimini. While we were snorkeling, we found a stingray buried beneath the sand. We left the area to go look for dolphins and our captain saw a turtle – but it dove down before we had a chance to see it.  
At 1644, we saw our first two spotted dolphins. More joined the group until there were 12 in total. In this group there were at least three calves.  The following individuals were observed: Romeo (#10), Lil' Jess (#35), Tim (#69), un-named #75, Nemo (#76), Speedy (#78), un-named #91, and un-named #92 (Neicey – #48's calf) – and perhaps we will ID even more when we review photographs. The dolphins were bowriding and a big scattered. We saw something larger in the water, but it was not a bottlenose dolphin – it was a tiger shark! The shark was at least 10 feet long and was swimming slowly at the surface. Once we lost sight of the shark, we turned our attention once again to the dolphins – which were still in the area. 
We saw pectoral fin rubbing, belly to belly swimming/rubbing, synchronized breathing, breaching, corkscrewing, leaping – and even some successive fluke slapping from one calves. The first team entered the water with still cameras and got a quick, but close view of one of the calves. The second team observed the dolphins at the sea floor – it looked like they were crater feeding, but we did not see what type of fish they were after. During the third water entry, 4 students + Kel entered, but another 4 were able to join as the dolphins stayed in view a bit longer. We could hear their clicks under water and some were rubbing their bodies in the sand. There was more crater feeding and pec fin rubbing. We think that Romeo (#10) is pregnant (!) and we noticed lots of small nicks in different dorsal fins, pec fins and flukes. At the very end of our encounter, we saw a nurse shark at the bottom…then we were back on the boat. We returned to the dock at 1944.  
Until tomorrow,
UNB Squad