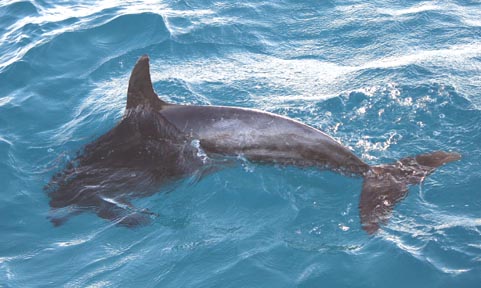 On Monday, Cat and Janan (DCP's 2010 summer interns) arrived in Bimini for the first time! We made it safely (albeit on the tiniest plane either of us had flown in) and were excited to get started on a dolphin trip. Unfortunately, we got a taste of "island life" when there was literally no fuel on the island. Obviously with no fuel, there could be no dolphin trip!
With our spirits high for another chance at our first dolphin trip, we set out on Tuesday at about 15:30. Early on, we saw a group of 5 bottlenose dolphins not far from shore. We watched them for about ten minutes, and then continued on to search for spotteds. However the spotteds appeared to have other plans because we didn't see any for a long time. At last at 17:30 we saw 5 spotted dolphins, but they didn't come close enough for us to get good IDs. We did observe some good tail slaps on the water (was this to dislodge a remora?). Everyone got in the water and tried the swim, but the dolphins swam off. We returned to the boat much cooler, and headed towards home.  
At 19:05 we were surprised by a much larger group of dolphins! At first, there Tina (#14), Speedy (#78) and un-named #84 were riding the bow. Soon, there were at least 12 dolphins, including 2 offshore (aka oceanic) bottlenose dolphins! Kel has never observed these in a group with Atlantic spotteds before! In this photo, you can see the light color pattern on the offshore's peduncle. Their bodies are also much darker and they are larger than their inshore (aka coastal) counterparts. The main group peeled off from the boat, but Kel and the passengers had a nice, short swim with 2 adults and 2 calves. What a fantastic sunset surprise!  
Looking forward to our next dolphin encounter,
Janan, Cat & Kel