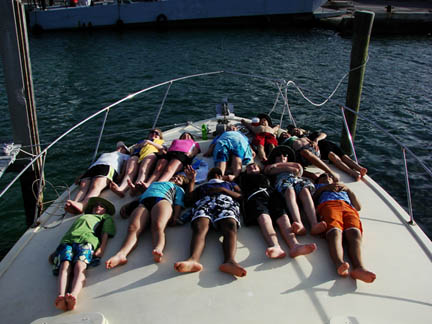 Our morning began a bit earlier than previous days with breakfast followed by an historic-themed scavenger hunt. We visited the Bimini Museum to learn about Bimini's history and to find information about the island. It was educational but quite fun. Our afternoon trip was shifted to the south and a voyage to Honeymoon Harbor to swim with sting rays. The sea was a bit rough for a dolphin survey.  
Bill: Today, we went swimming with sting rays and we could feed them and it felt like a vacuum on your fingers.  Stephanie: today we watched the DOLPHINS IMAX movie and I got to see Freckles, my favorite dolphin.  Sam: We went to honeymoon harbor and since I couldn't get the sting rays to feed out of my hand, I threw the squid into the air to the seagulls who caught the piece of squid. E: It was amazing to see what other animals wanted the squid. When I let go of the squid, everyone was going for it – minnows, seagulls and lots of other fish. We also saw some very colorful wrasses on the way to the boat. Sarah: Today we sat on the bow of the boat and got soaking wet on our way to see stingrays.  Porter: At Honeymoon harbor, I saw a few flounder and it was very funny to see seagulls grab a rock when you offered it up and then they dropped it.  Emily: We went to see the sting rays and there were two really really little ones and I named one sting and one Little Bass. Little Bass would freak out every time I tried to touch him and would swim away.  Liam: I learned that sting rays don't whip their tails at people and we also found a pair of sunglasses and goggles at the bottom.  Athan: It was really fun to feed to rays and they felt really leathery. And, I found a flamingo's tongue in its shell.  Becca: We went to honeymoon harbor and got to feed the sting rays and it felt like a big vacuum trying to swallow my hand and there was a giant sting ray and I liked it and it climbed against my legs.  Gabrielle: When we were with the sting rays and if you stood still, they would swim against or through your legs and that was cool. Jack: it was fun to feed the sting rays even though they never actually took any of the food I offered. And I tried to catch some very fat fish and seemed easier to catch than the minnows.  Ben: the sting rays – their eyes looked mean or angry the way their eyes were positioned on their head. I also found a dead sea urchin shell that did not yet get broken.  Alexis: today was a very fun day but the most eventful part of my day was getting in and out of the rocky shoreline behind Kel's house while wearing flippers and having the surging waves crash against us.  Gary: Lots of scientific documentaries talk about animals that haven't evolved since millions of years ago, and that's what I'll always think of when I see sting rays. They look like prehistoric creatures.  John: I enjoyed seeing the stingrays again!  
The seas flattened out nicely on our return trip from snorkeling with sting rays. And, hopefully the weather will continue to cooperate for tomorrow afternoon's trip to search for dolphins. After we returned to the dock, we decided to catch a group portrait on the bow of our boat. 
Until tomorrow,
Kel, Kathleen & the DRTs