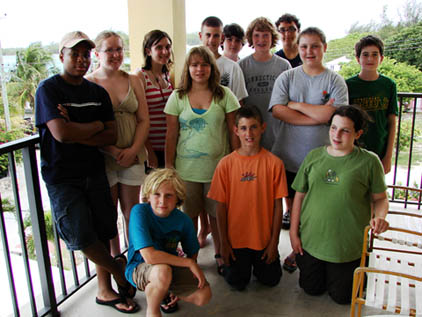 Our day began at 3:30 am in Newark, NJ! By 10:45 am, we were waiting to clear Immigration and Customs on Bimini, The Bahamas! The following comments are from our DRT team: 
Ben: it's a strange place – they do a lot of things differently than us. For example, the main mode of transportation on land is golf carts!  Sarah: We tried conch salad from a conch shack on the beach and the flavors were very good and spicy and tasted really good.  Becca: We swam in the ocean and saw lots of fish and there was an angel fish that seemed to be biting our feet. E: The airplane ride from Ft. Lauderdale to Bimini was like a roller coaster – the only thing he forgot to do was a barrel roll. Athan: At the end of our beach time today, we started a treasure hunt for Bimini silver … and we found some! Liam: The water is really warm but was a bit cloudy today because of the wind that was here the last few days.Jack: We saw Ghana score a goal against the USA on the TV while we ate the conch salad. Porter: I was really surprised at how pleasant the heat was here. (It didn't feel hot to me.) Sam: The island is beautiful in general and the beach water is so clear you can see to the bottom.Stephanie: I love how the water is so blue and clear. Bill: At the conch salad stand, there were conch shell mountains in the water – all the conch shells from the salad making. Gabrielle: There are lots of little green geckos here inside and out. Emily: I went swimming and we saw lots of baby fish.  
Alexis (Chaperone): In our tour today, it was really interesting to hear a Biminite's perspective of the history of his island and to see all of the things that have changed since my last visit. Gary (Chaperone): This is the only hotel I have been to where I can see the ocean from my front door and from my back door!  
We finished our day with a tram tour to learn about all the different spots on Bimini, including the location of Hemingway's cottages, the older buildings and history of the various different spots on the island. Tomorrow will have us snorkeling from the boat and maybe searching for dolphins. Here is a picture of our group on the hotel balcony! 
Stay tuned for more exciting adventures with the DCP DRTs!
Kel, Kathleen & the DRTs