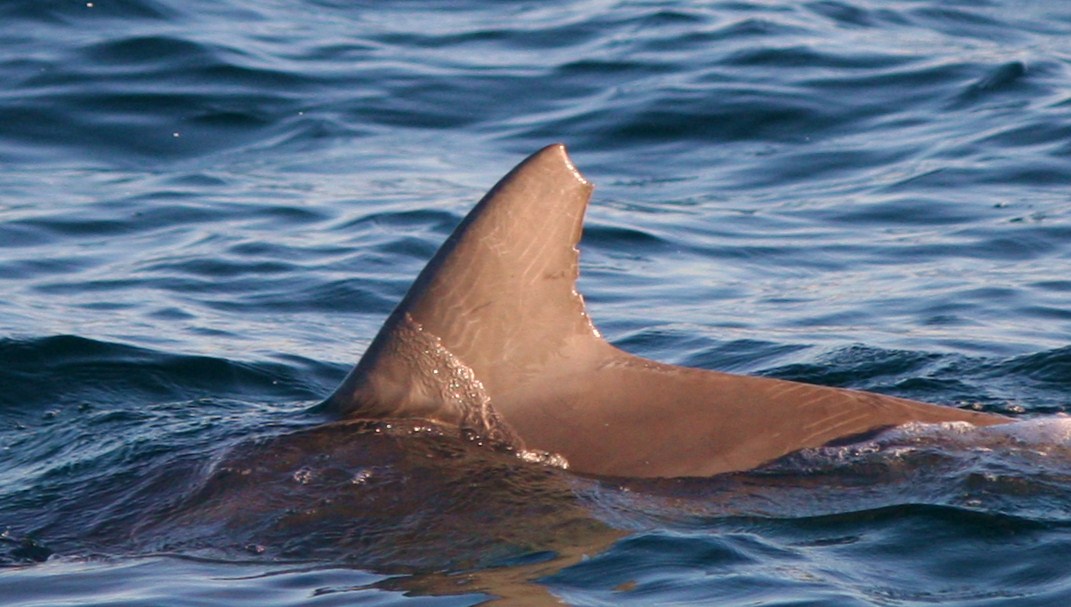 Thursday was the final full day of the 2010 Bimini Eco-Tour. We began with our usual morning meeting, reviewing photos and videos from the day before, discussing hot dolphin topics and chatting about all types of other things – including the great new bakery in Alice Town! Everyone had a few hours free to eat lunch, explore, swim at the beach, anything. Around 1515, our dolphin boat arrived (thank you Bill, Nowdla & the rest of the Wild Dolphin Adventures crew!) and we were headed out. We stopped for a snorkel at the "Bimini Road" (aka "Atlantis") and enjoyed a swim after Bill's great background information. Soon, it was time to search for dolphins… 
The dolphins seemed to have spoiled us during the previous two dolphin trips, and at 1800, we found ourselves wondering where they were! Of course, it is quite normal to not see dolphins until the later part of the trip so we stayed patient. And, we were again delighted to see them! Initially we saw what appeared to be another mother/calf group, with some juveniles mixed in. Later we saw a large group that appeared to be mating and we got a glimpse at bottlenose dolphins in the mix! Bottlenose ID#06 was one of those present (pictured here); this marks the fourth year we have seen this dolphin off Bimini ('06, '07, '08, '10). Although our underwater observation was shorter today, it was great seeing so many dolphins. Included in the group were: Tina (#14), Lone Star (#56), Trudy (#57) and un-named#75 and #93. ID#93 is Juliette's (#12) baby, so it was quite likely that Juliette was in there as well. Kel also thinks she saw Lil' Jess (#35) and un-named #86. ID#86 is currently waiting for a name! Click here for details. 
We said goodbye to the boat crew and passengers once we were back to the dock. Then we met for a nice farewell dinner. A big, big, big thanks to our 2010 eco-tour participants. Your enthusiasm, interest and support of DCP's work are greatly appreciated! 
Until next trip,
Kel, Tara & the eco-tour guests