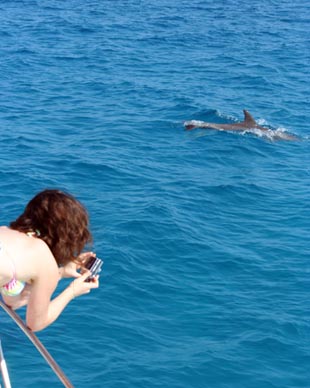 We departed the dock on Thursday at 930 to head to "Honeymoon Harbor" to feed and observe some southern stingrays. Immediately out of the harbor, we saw bottlenose dolphins! There appeared to be at least 36 in the group – very large for Bimini. We'll work toward confirming this number when we look at the photographs. They were traveling north so we observed them as they passed by. We observed two fluke slaps and some porpoising. It was cool to see the other Bimini species!  
When we reached honeymoon harbor, we saw a group of at least 10 eagle rays. They stuck around the general area the whole time we were there. Then, it was time to feed the stingrays squid. We stood shallow water right off the beach and the rays came right towards us, rubbing up against us – some more than others. There were at least six stingrays in the area, possibly more; the sizes ranged, but one was very large and two were quite small. We also saw a barracuda and bonefish.  
We returned to North Bimini at 1347 to discover we had no electricity. We prepared ourselves for a hot afternoon and then, luckily, it returned. This afternoon we'll work a bit more on photo-ID before our final group BBQ. 
Thanks for following!
UNB Squad