Saturday morning started with excitement, but it was far away from dolphins. Twenty contestants from the Miss Universe contest arrived on Bimini. They were greeted by natives, tourists, junkanoo and a marching band. It was a great celebration! The women (Miss Great Britain, Russia, Georgia, El Salvador, Singapore, France, Spain…just to name a few) were presented with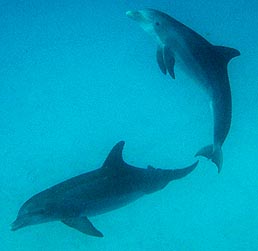 gifts from the island before their island tour, filled, no-doubt, with photo-ops. I think it was a nice way for Vicki and Alexis to say goodbye to Bimini! 
But, no goodbyes before dolphin trip #50 of 2009! We headed out shortly after 1600, scanning, searching and hoping for dolphins. There it was – a blow. Seeing the blow left us confident we were approaching bottlenose dolphins as it is more unusual to see the blow of spotteds. Sure enough, a group of at least 8 bottlenose dolphins were scattered about. The boat passengers, Alexis and Vicki all had the chance to observe the group under water while I stayed aboard taking surface photographs of the dolphins' dorsal fins. There are lots of photographs to process; I miss the interns already! 
Back on land, we had a nice final dinner together. I cannot believe how quickly the month has flown by – but I think (hope!) Vicki and Alexis enjoyed their time with DCP. If you are college-aged and interested in a field internship with DCP, stay tuned for application details later this fall. 
Until tomorrow,
Kel