So Monday's trip started with looming rain to the west of us, but don't worry it broke up throughout the trip and we never felt a drop! We proceeded out for a delightful snorkel swim at a location thought (by some) to be part of the lost city of Atlantis. After a 30 minute exploration of a possible underwater city we headed out to find our dolphins. At 1741 we spotted our first set of dolphins in the distance. As we got closer we realized we saw at least 6 Atlantic spotted dolphins including un-named #43, un-named #94, a young male calf (pictured here), and 3 other adults. At 1750 we hopped in to get a closer look. We swam around with the dolphins taking lots of still photos and video (with Kel in the water with the MVA) for about 10-15 minutes. Today the dolphins seemed a little shy, sta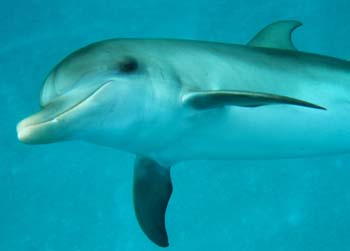 ying on the outskirts of our group. After getting back to the boat and regrouping a bit we spotted the same group of dolphins at 1805 with the additional of White Blotch (#29). We hopped back in and swam with the dolphins for a little less than 20 minutes. Then we all got back on the boat and started heading back towards shore with #94 taking a long bow ride with us. Three dolphins from this previous group (including #94) continued to remain within a close distance to us until 1841 when they disappeared from our sight.  
At 1911 we got another sighting, this time of the bottlenose dolphins who stayed around for about 15 minutes. Alexis got in the water to take pictures while Kel was on the boat taking dorsal fin shots and Vicki was recording our sightings. After about 15 minutes we had to leave the dolphins to return to shore as the sun was starting to go down and the day was coming closer to an end. Now we have plenty of work to do with our data. 
Next trip on Wednesday; hopefully the sun will return and the dolphins will be out! 
Alexis, Vicki, and Kel