Thursday morning, Kel described this past winter's Bimini manatee. We learned about the steps that were taken in the community and between the US and the Bahamas. We also watched a video of the capture day. We are having a hard time imagining a 1200 pound animal on the bow of our research bow! During photo-ID we confirmed Split Jaw (#22), Swoosh (#36), Niecey (#48), Nemo (#76), Leslie (#80), un-named #43 and 84.
This afternoon's boat trip was a break from dolphins. It was our first time on the boat early in the afternoon and the sun is much stronger. The water was still calm and clear and we saw a sea turtle on the way to our snorkel site. Once we arrived at "Triangle Rocks," there were only a couple of sharks. We were a quite apprehensive at first, but overall it was a great experience observing Caribbean reef sharks. Our captain entered the water to assess their behavior and we threw some small fish heads. Once we entered the water with our snorkel gear, we saw as many as 6 different sharks, ranging from 4 – 6 feet. Kel threw in the last snapper head (away from us) and we were able to watch the fish go after the head and the increase in activity from the sharks. Once we back on board, our captain threw large dolphin (fish) carcasses in the water and we were able to watch as many more sharks came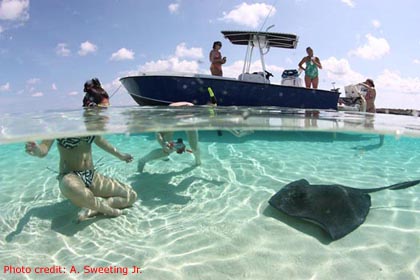 into the area and went after the fish.
After our shark observations, we had a surprise trip to "Honeymoon Harbor." The water was so shallow, clear and warm that it felt like we were swimming in a pool. The big draw here is the southern sting rays that are habituated to human presence and feeding. We observed 3-4 different rays, including a large ray (roughly 3 feet long, not including the tail). It was a great day, seeing a different side of Bimini's marine ecosystem (and eco-tourism).
Tomorrow we wrap up with final photo-ID work and data wrap up. We're sad to be leaving Bimini, but we've all had a good time. A big thank you to everyone who has been keeping tabs on us through our field reports…and of course, thank you to our captain, Al, Kel, Dr. Dudzinski and DCP!
-The SHU Crew