Monday morning's discussion was all about eco-tourism – pros, cons and challenges. After experiencing interactions with wild dolphins first hand, for most us, our opinions did not change, but were strengthened. Research in collaboration with eco-tourism is important and should inform the managing bodies. An overall passion for protecting the marine environment was evident and this protection should be the priority with tourism second. The conversation then took a broader turn as we discussed our personal choices and those of our towns, universities, etc. We are now determined to instigate constructive conversations on reduction and recycling with our friends and professors when we return home.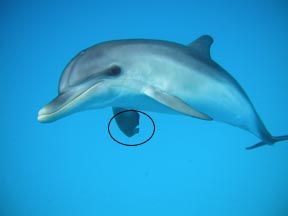 Our photo-ID time resulted in a successful ID of Juliette (#12). The calf in our photos (with the distinctive pec injury, pictured here) may have been her calf. There was a third individual present, but we did not capture a clear image for photo-ID.
Back on "the little boat" we were pleased to have calm sea conditions, although the sun was very strong. We saw a nurse shark as we exited the harbor, but were soon in the "dolphin grounds." We tried to stay clear of the other 3 eco-tour boats and the groups of dolphins they were observing. As we observed dolphins throughout the afternoon, they were quite dispersed. We were able to ID Lone Star (#56), Trudy (#57), Stefran (#82), Leslie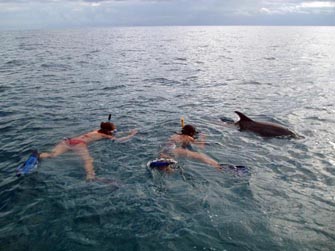 (#80) and un-named #25, 75, 91. We saw lots of tactile and aerial behavior and possibly even "scout" behavior as one dolphin appeared to leave the group to investigate the boat. One dolphin group also appeared to be a nursery group with 4 adults (3 confirmed female) and 4 calves. At the end of the day, we were rushing back toward the island to avoid an approaching squall, when dolphins suddenly were sighted leaping toward the boat! It was the fastest our captain had ever seen dolphins approach a fast moving boat, so carefully slowed the boat. These dolphins were scattered, and we were distracted by the squall, so we were unable to get a good count.
After dinner we watched the 2nd, and sadder, half of ""Why dogs smile and chimpanzees cry." With some of us missing our pets back home, we had a nice discussion before heading to bed.
Two more dolphin trips to go!
The SHU Crew