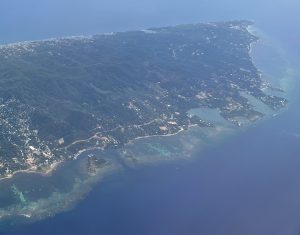 First, Happy Mother's Day!
Second, we arrived in two groups on two different flights. Kathleen, Manon, Kristin, Poppy, Liz, and Marriah came through Miami and arrived on time – it was the first time Kathleen and Manon were 3rd in the immigration line! We actually had to wait for our bags to come out! Richard, Giulia, Katariina, Shereen, Anna, Daniel, and Amalia flew in from Houston and had about a 5+ hour delay … for a variety of reasons. But they all made it safely and in time for a yummy first dinner together.
The picture shows Anthony's and Bailey's Keys at AKR. If you look close, you can see the water taxi and encounter boat, not just the diver boats. We look forward to a great session.
Tomorrow begins with a 6:15 AM call time to collect data on the dolphins!
Until then,
Cheers
The York U team