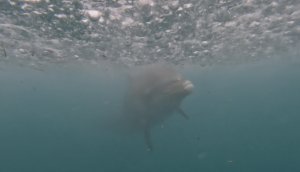 The morning, afternoon, and early evening brought … RAIN! I was able to get in at Bailey's Key for just under 7 minutes. The rain started just after I entered the water and then became an onslaught. Bill and Ron said it felt like hail. You can see Ronnie in this image just as the rain got heavy and the minimal underwater visibility got obliterated by a freshwater layer. It was cool to see the rain from below the water's surface. And it was loud! Bill, Ron, Kate, Shannon, Louise and Mary came with me to Bailey's at 6:45 for data collection.
Bailey was first to greet me at the platform and underwater. After her, I saw Gracie and Trixie and then Ronnie. Buzz and Rocky were hanging together and then French and Tilly both made quick passes by me. Elli and Gizmo swam a few circles and then Stan, Tank, and Ronnie teamed up tightly to seemingly delight in quick buzzes on my fins before I swam to the exit.
The morning had several in our group doing dives, and even though the sea was a tad choppy it was warmer than the air. After lunch we met in the new lounge area between the reception room and the Ankor restaurant to watch all 6:45 min of video and chat about the dolphins.
Here's a view of the restaurant … very nice!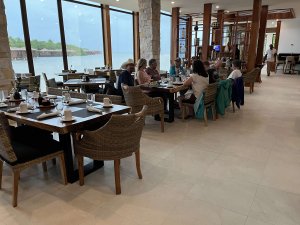 Shannon, Kate, and Bill did the afternoon dive while the rest of us either chatted more about dolphins, relaxed, or took a nitrox dive class. No rest for the engaged and interested!
We are hoping tomorrow is less rainy and the seas are more welcoming for dives and data collection. Tonight is the fish ID talk … we're hoping to learn more about the various fishes we plan to see tomorrow and during the rest of the week.
Cheers
Kathleen and DCP's October 2022 Ecotour Group