Research, Education, Conservation
To promote the scientific study of dolphins and inspire their conservation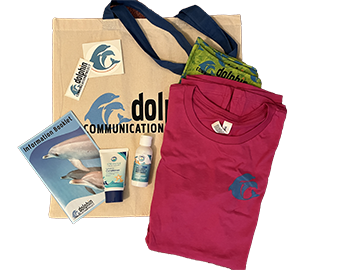 Whether your next trip is on the other side of the world or a stay-cation, a DCP Traveler Kit is a must have! Each kit includes a DCP Hoo-rag, DCP stickers, travel-sized products from Stream2Sea, and a DCP shirt, all inside a never-before offered DCP tote. Choose from rash guard, performance polo, tank, or classic tee. Visit the DCP online store to be among the first to snag a DCP Traveler Kit!
Sign up to our mailing list to receive the Gazette via email, as well as other DCP news blasts and communications.
The Dolphin Communication Project is a 501(c)(3) non-profit organization that relies on support from the public to conduct our scientific research and offer education opportunities to people of all ages.