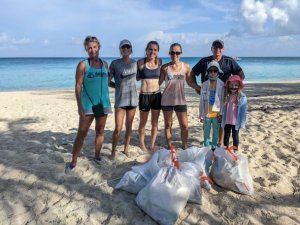 Welp, we didn't get a research permit in time for our July ecotour group. Though our disappointment was palpable, we turned our frowns upside down and had an absolute blast with the Sea Crest guests. With eight repeat guests and two newbies, we spent the week gazing over the Bimini blue waters, snorkeling with Caribbean reef sharks, exploring 3 Sisters, eating delicious food….oh, and of course, hanging out with the incredible dolphins of Bimini!
From mother-calf pairs, to crater feeding bottlenose, the dolphins were wildly entertaining while still reminding us that it's their choice to let us hang with them. One day, we saw Paul (ID#099) snag a sizeable houndfish. He didn't gobble down the whopper but carried it around in his mouth before giving Tina (ID#014) a turn with the prize. Was he showing off for the ladies? Another day, we watched a big mating group, from the surface and from under water. It was the closest many of us had ever been to the dolphins, even Kel!
Guests also visited the SharkLab, patronized The Straw Market, enjoyed sunset cocktails, did a beach clean-up, and more. Not only did the group immerse themselves in the sea, but also the Bimini community!
Thanks to the guests themselves and to the Sea Crest team for making this program possible.
Cheers,
Kel & Nicole