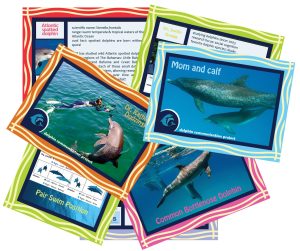 Big things are happening at DCP's online shop:
Trading cards are back! We've got some classics, including Dr. Kathleen and Dolphin Play, plus some brand-new cards, like our study species and Pair Swim Position. Purchase options include individual cards, random packs, and all 12. 
Plus, get 15% off all purchases through 15 May! Use promo code DolphinMom for discount whether purchasing trading cards, bracelets, Hoo-rags, or shirts.
What are you waiting for?