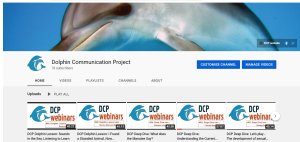 DCP Webinars Continue!
DCP launched our free webinar series in 2020. We were thrilled to have our live participants and are happy that each program is recorded and accessible at any time on our website and on our YouTube channel.
Dolphin Lessons are geared toward elementary ages. Live Dolphin Lessons require a password to join. Dolphin Lessons generally run 20 – 30 minutes.
Deep Dives have ages 14+ in mind, but everyone is welcome. Live Deep Dives now require a password to join. Deep Dives run 40 – 60 minutes.
***********
DCP Deep Dive: A Dolphin's Guide to Maintaining Friendships
Emma Chereskin spoke about the male bottlenose dolphins of Shark Bay, Australia. These dolphins form the most complex alliance structure outside of humans. Forming alliances, and maintaining those friendships, is vital in securing paternities and protecting females from rival males. In this talk, Emma explored the wide variety of mechanisms, such as touch, synchrony, and sound, used by these dolphins to maintain their decades-long friendships. Emma is a marine mammal scientist and current Ph.D. candidate at the University of Bristol, UK, supervised by Dr. Stephanie King. Her research explores the role of vocal signals in facilitating cooperative acts in male Indo-Pacific bottlenose dolphin alliances as a part of Shark Bay Dolphin Research in Shark Bay, Western Australia.
This Deep Dive was geared toward ages 14+, but all are welcome.
Missed the live talk? Catch the recording on YouTube or right here, on our website! 
***********
DCP Deep Dive: Human-made noise impacts bottlenose dolphins' ability to work together
Human-made noise poses a significant problem for a wide range of animals. Individuals across animal groups have been shown to use different vocal and other behavioral strategies to compensate for the effects of noise, however, little is known of how successful they are at overcoming the impacts of noise disturbance when working together. In this talk Pernille Meyer Sørensen will present the results of a recent study done in collaboration with the Dolphin Research Center, in Florida, in which they investigated how noise affected two dolphins working together. Pernille is a behavioral biologist particularly interested in animal cooperative behavior, acoustic communication, and bioacoustics. Pernille's PhD work was supervised by Dr Stephanie King at the University of Bristol in the UK (thesis just submitted! Congrats, Pernille!). Pernille continues working with Dr. King as a postdoc.
This Deep Dive is geared toward ages 14+, but all are welcome.
You can find other DCP webinars on our YouTube Channel or right here, on our website (look under the Knowledge Hub!).
Wednesday 15 March 2023, Noon pm ET (New York, Miami – NOTE recent U.S. time change!)
Zoom Link: https://us02web.zoom.us/j/83399837145 (or Meeting ID 833 9983 7145)
Contact DCP for the password: info[at]dcpmail[dot]org
Missed the live talk? Catch the recording on YouTube or right here, on our website! 
***********
More Talks Coming May & June 2023. Stay tuned!